The Redding Certified Farmer's Market is reopening this Saturday April 4th. I've been looking forward to it. But I can't help thinking about the year-round Mercat Central we saw in Valencia Spain last year. The beautiful structure contained an amazing array of vendors and produce. Here are a few images I captured.

"The Mercat Central de Valencia has always been known for the quality, variety and freshness of its products as well as the helpful, personalised service provided by its traders.

In addition to the market's main activity, the innovative and business-like character of the traders has made the market grow and improve day by day. Nowadays, it is an important place for the sale of fresh products and a major cultural and tourist attraction not only for foreign visitors but also for the people of Valencia.

The Mercat Central de Valencia covers exactly 8,160 square metres divided into two areas or zones. The first one is an irregular shape with a surface area of 6,760 square metres and the other, which is octagonal and covers 1,400 square metres, houses the fish market. The basement, which has 7,690 square metres, was previously a fish auction and is now used as a car park.

The Mercat Central brings together almost 400 small traders and 1,500 people are involved in its daily activity. It is the largest centre of its kind in Europe specialising in fresh products and the first market in the world to rise to the challenge of computerising sales and offering home delivery, services which have been available since 2nd October 1996."
So, according to the Mercat Central website, you can order online. But why would you? I shot a 30 second video walking in. Sorry for the skakiness, but it gives you some idea of the sound of it.Then you need something to cook that in.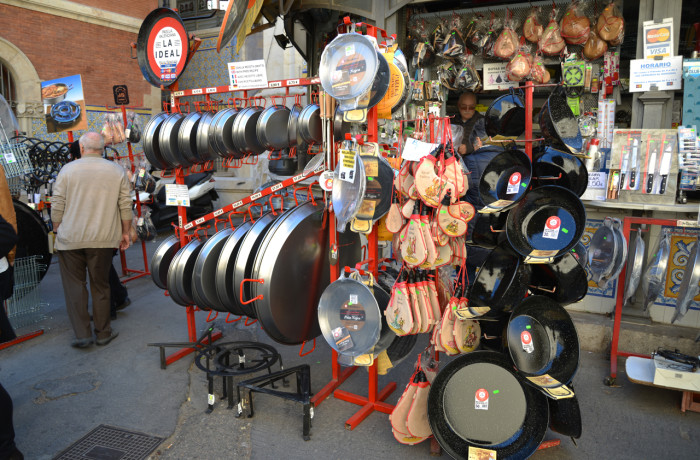 I do like the new home for the Saturday Redding Farmers Market, behind City Hall. But some days, it would be nice to have some large, perhaps re-purposed building to keep out the elements. They seem to know a lot about indoor/outdoor beauty in Valencia.